Hair extensions have been hugely popular for decades. They hit worldwide popularity in the 90's, and can definitely be named as one of the longest-running hair trends of our time. What's more, the art of the best hair extensions has changed so much that nowadays, there are many different types of extensions to cater to all kinds of preferences, tastes, budgets and lifestyles. This means that anyone can try several methods of extensions to find the best hair extensions for them. Micro bead hair extensions, Tape-in hair extensions and keratin fusion extensions are the three of the most popular types of extensions offered today in salons all over the world.
But which of these three are the best hair extensions, and how do they stand up to each other in cost, installation, and above all, general wear? Let's find out.
Micro Bead Hair Extensions
Some people swear by micro bead extensions, but if you've never heard of them, the concept might be a bit difficult to imagine. Micro bead extensions are installed by attaching the extensions to small rings or loops, which are then attached near to the root of your hair and tightened to keep them in place. Because of the precision needed for a seamless, natural-looking installation, the process takes about 2-3 hours at a proper salon. When installed properly, micro bead extensions can be quite enjoyable. The process isn't difficult when done by a trained stylist, and maintenance is fairly simple. You only have to revisit the salon every 2 months to have them tightened, or to replace any that may have fallen out. Removal is super easy, too – with a good, strong pair of pliers, you can even do it at home!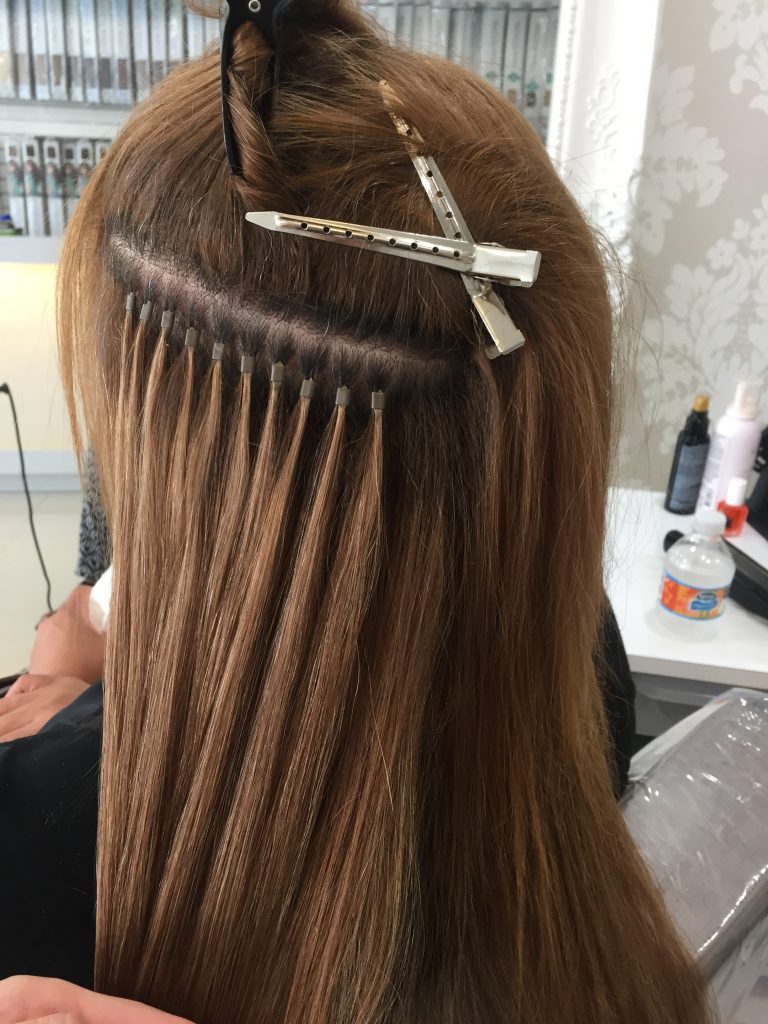 Maintenance
At-home care is fairly simple: washing too often is discouraged, as is the use of any slippery products like gels and creams. Over-combing and brushing is a definite no-no, and silicone-containing products can definitely do more harm than good for your extensions.
Since micro bead extensions are attached to the hair using small metal rings, there's no need for any glue or bonding agent to hold them together, and the end result is gentle and secure when done well. Under regular maintenance and proper care, it's certainly one of the least damaging options for hair extensions, and is considered a good alternative to sew-in or clip-in extensions.
However, the micro bead extension method does have its drawbacks.
For one, its reputation as one of the least damaging can easily go the other way if the extensions aren't properly installed. Being installed too close to the scalp leads to painful pulling of the hair and scalp, and this can result in hair being ripped out by the root. Hair loss and scalp damage is quite a high price to pay for having extensions, and this is exactly what makes many people hesitant to choose micro beads.
What's more, micro bead extensions must be done at a salon. For those on a budget or with a busy schedule, this is definitely a disadvantage, since prices can range from medium to high and it cannot be done at home.
Having to avoid certain products and activities can be irritating and inconvenient, and often, you'll have to spend even more money on micro bead-suitable products at the hair salon if you want your look to last. For a lot of customers wanting long, shiny hair extensions, the cons of micro bead extensions far outweigh the pros, and it certainly is far from being the best hair extensions.
Keratin Fusion Extensions
Keratin fusion extensions, more commonly known as 'fusions,' are extensions attached to a keratin glue-like bond. The method is also called the 'glue-in' method, although it doesn't actually use glue. With this type of hair extensions, the hair is attached by melting the solid keratin bond enough to attach it more securely to the hair, then allowing it to harden again. One head of hair on average takes about 100-150 fusion extensions to complete a natural look.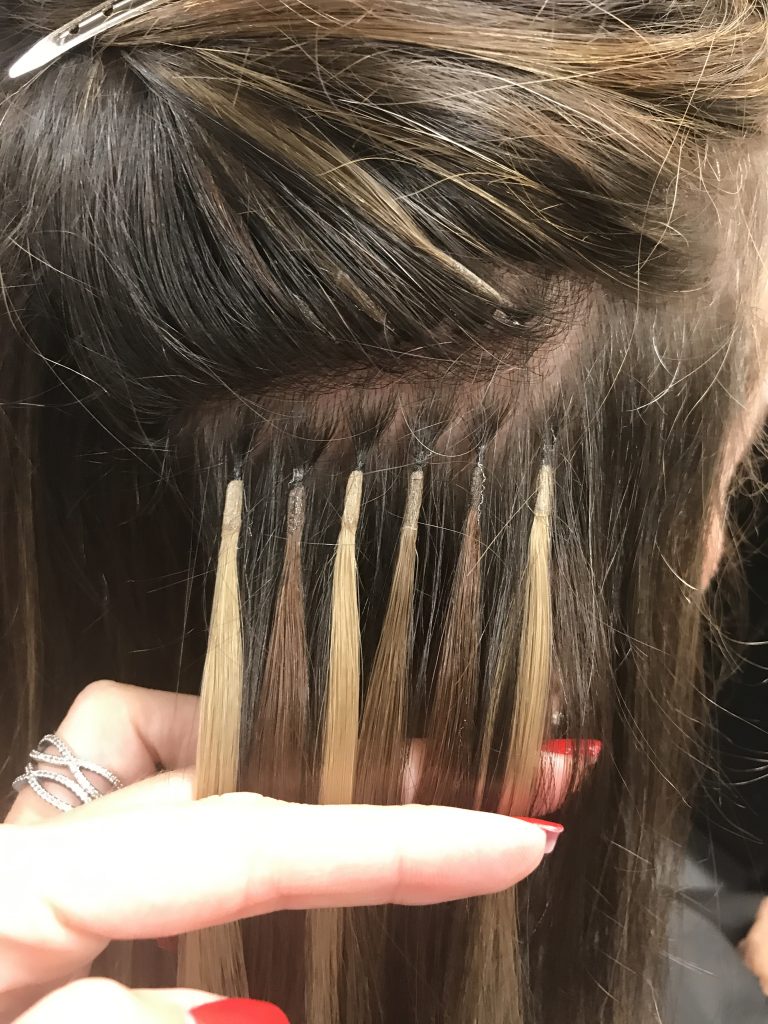 Although the installation process isn't very difficult, it can certainly be tedious because of the number of extensions needed to complete one head. For this reason, keratin fusion extensions often run a bit pricy at salons, and the entire process takes about 4-5 hours on average. It's often recommended by stylists that clients don't wash their hair for 2-3 days after getting keratin extensions, as the bonds need enough time to set and hold onto the hair.
Maintenance
Maintaining keratin fusion extensions is quite similar to maintaining micro bead extensions – washing hair too often isn't advised, and neither is the use of slippery products, like creams, oils and conditioners. Swimming is also definitely out of the question if you want your fusions to last long, as the chlorine or salt is likely to make those keratin bonds slip right out.
Fusions may be the least beneficial of all three methods for several reasons. For one, fusions are often pricier, take longer to install, and are much more unforgiving when it comes to everyday activities. Oils, creams and conditioners are often staples of a healthy hair regimen, so having to forego your favourite moisturizing products to keep your extensions secure can be quite bothersome, and can even cause your natural hair to suffer if you're unable to find alternative products.
Keratin fusion extensions are often good quality, and can look very realistic, but the price, maintenance and time that goes into it often keeps it from being the number one choice for the best hair extensions.
Tape-In Extensions
Tape-in hair extensions are exactly what they sound like. These extensions are attached to double-sided strips of strong adhesive, which are then 'taped' to the roots of the hair. No braiding, sewing, chemical or additional glue is needed to help these sturdy extensions stay put. Tape-in extensions are often done with the highest-quality Remy hair, which helps the style last longer. Hair that has been over-processed tends to tangle, shed and wear away much faster than hair that has been minimally processed and still has the hair cuticle layer intact.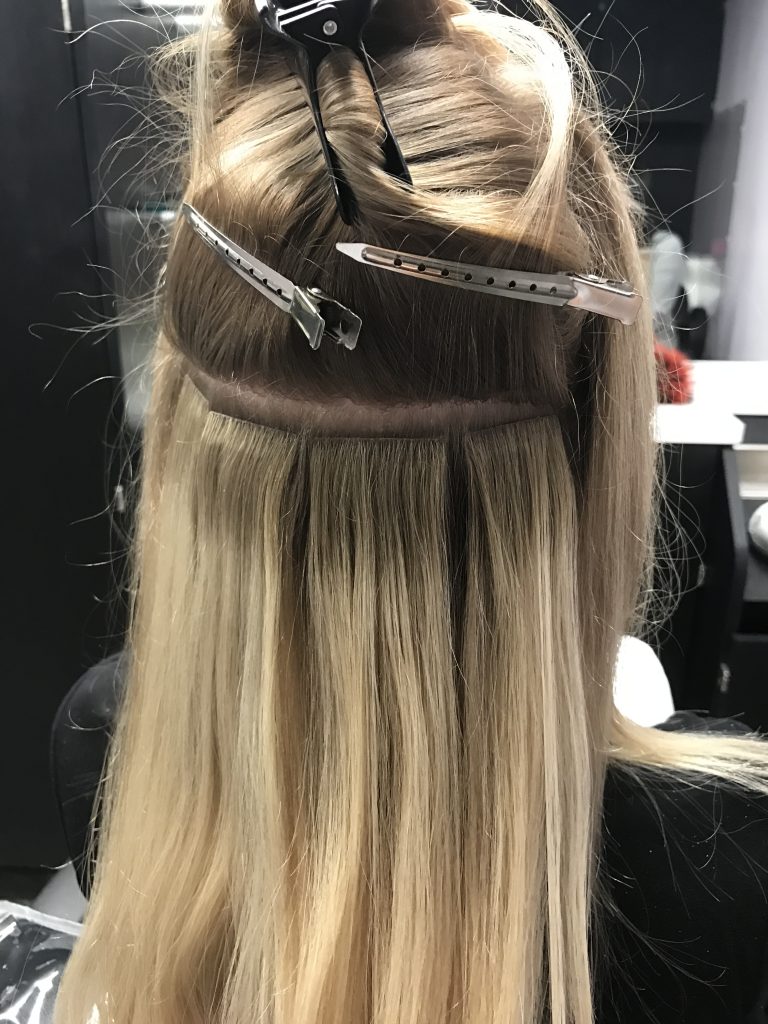 The installation process is simple, with about 50 pieces of tape-in extensions used on the average head of hair. This is less than half of what fusions require, and means that tape-ins only take about an hour to apply when done by an experienced stylist. After installing all of the extensions, a few warm blasts with a blow dryer helps to properly seal the strips onto your hair.
Tape-in extensions are the favourite of many, many clients! These extensions look natural, don't cause any pain or discomfort, and of course, are absolutely reusable. Most stylists agree that tape-ins can be reused as much as 3 times, with the installation lasting a few months each time with proper at-home care.
Maintenance
Taking care of your tape-in extensions is incredibly easy. Simply brush at night to remove tangles and style into a loose braid before sleeping, detangle before washing and avoid using excessive heat and chemicals on the hair. Though the extensions can be dyed, it's best to avoid any at-home dye jobs unless you have considerable, professional experience in dyeing hair.
After 2-3 months, tape-in extensions should be removed and redone. As your hair grows, the extensions will shift and may begin to look less realistic, so getting them redone closer to the root of the hair will have your style looking like brand new again in just a few hours. Redoing your tape-ins at the salon that you got them installed is always best, regardless of how much you might be tempted to take a shortcut and do it yourself at home.
Tape-in extensions are by far the most versatile of all the hair extension types. Not only can you style your hair into a variety of hairstyles, but you can even continue going to the gym, doing sports and swimming as you usually do! After getting your extensions wet or damp it's recommended that you use the blow-dryer on the adhesive strips again to keep them sticky, but this is definitely a small sacrifice to make in exchange for keeping all of the activities you already love doing.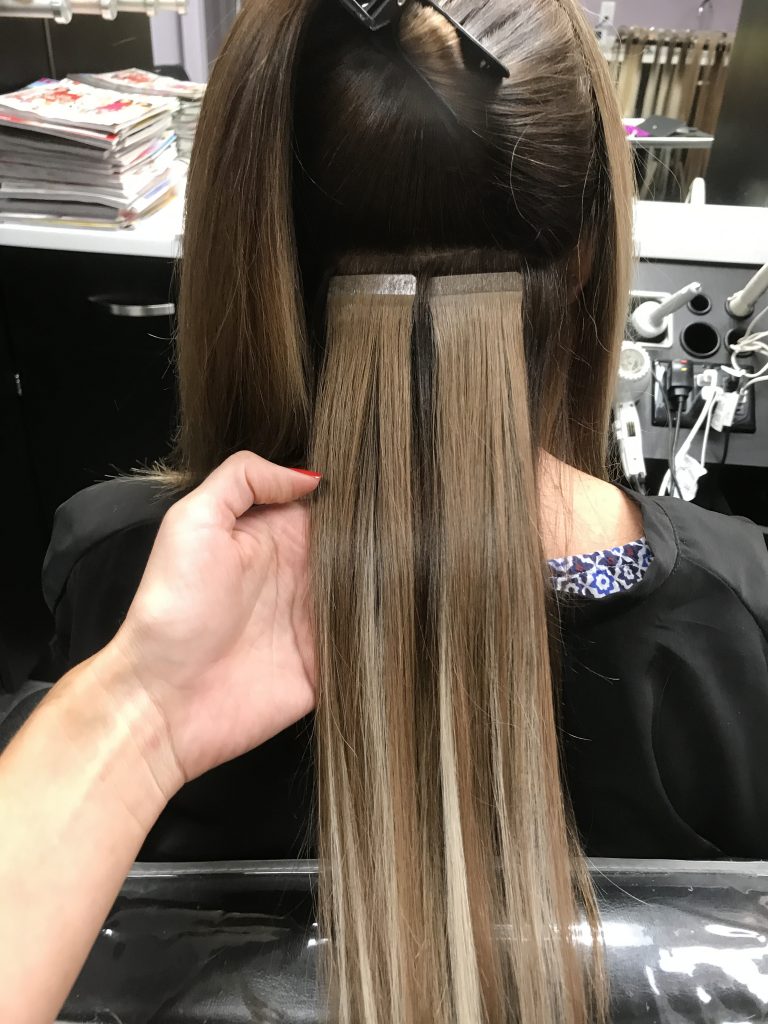 Final Verdict
It's easy to see why tape-in extensions come in at the top of every major list as the best hair extensions type. They're affordable, versatile, last long and don't damage your hair, and maintenance is a breeze! Whether you lead a busy, active or laid-back type of life, tape-ins can fit any lifestyle. With so many benefits and almost no disadvantages, countless women worldwide have turned to this method as their go-to, making tape-ins the best choice if you're thinking of adding some length to your look.