Hair extensions have proven themselves time and time again as a true go-to when it comes to styling. Extensions are versatile, stylish, and they look like your real hair – three things that women love most about them! But in spite of this, there still exist people today who think that having hair extensions that are expertly done, affordable and durable is just a dream! To be honest, this is far from the truth! If you want a great extension installation that suits you perfectly, you've only got to give one of the most popular hair extension types a try: Keratin Hair Extensions.
What exactly are keratin hair extensions?
A favorite of many women today, keratin extensions are also one of the older, more traditional ways to install hair extensions. Customers and stylists alike are in love with this method, and are never tired of praising its easy installation, natural results and of course, durability. When women go to have keratin fusions installed, they can rest assured that their outcome is going to be amazing. Keratin fusion extensions are also fondly referred to as the 'glue' method, or more commonly, 'fusions.' However, it doesn't use glue, though it's just as effective at gripping the hair shaft.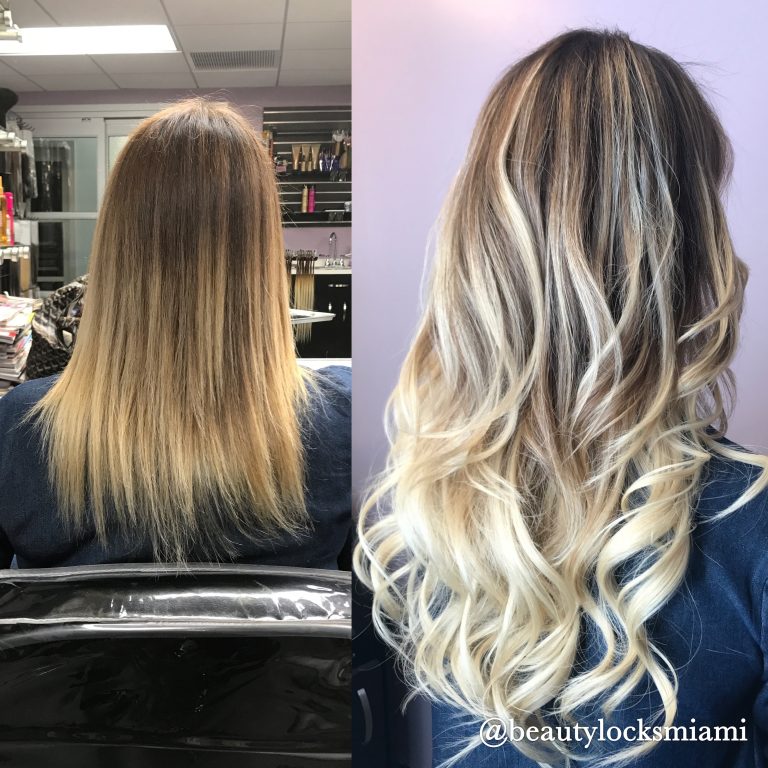 When installing keratin fusions into a client's hair, stylists use packs that come with around 20 strands. Attached to the root of these strands is a flat, square tip that connects all of the hairs on the strands. Depending on the size of a customer's head, a full installation of keratin fusion extensions can take anywhere from five to nine packs of hair. 100-180 of these strands, therefore, is standard for a quality installation, and should fit most heads quite well.
The flat square at the root of the extension strands is where the magic happens, as this is the keratin bond that is used to fuse the Keratin Hair Extensions onto the client's natural hair. This is done by melting this square, which is initially solid. To do this, the stylist takes a section of a client's hair that is similar in size to the width of the hair extension strand. Using a hot tool, the stylist melts the square tip, and quickly places it onto the section of the client's hair. Then, the stylist uses their hands to manually shape and mold the melted bond around the client's hair shaft. When this cools, the bond is firm and durable, and the client moves on to another section of hair.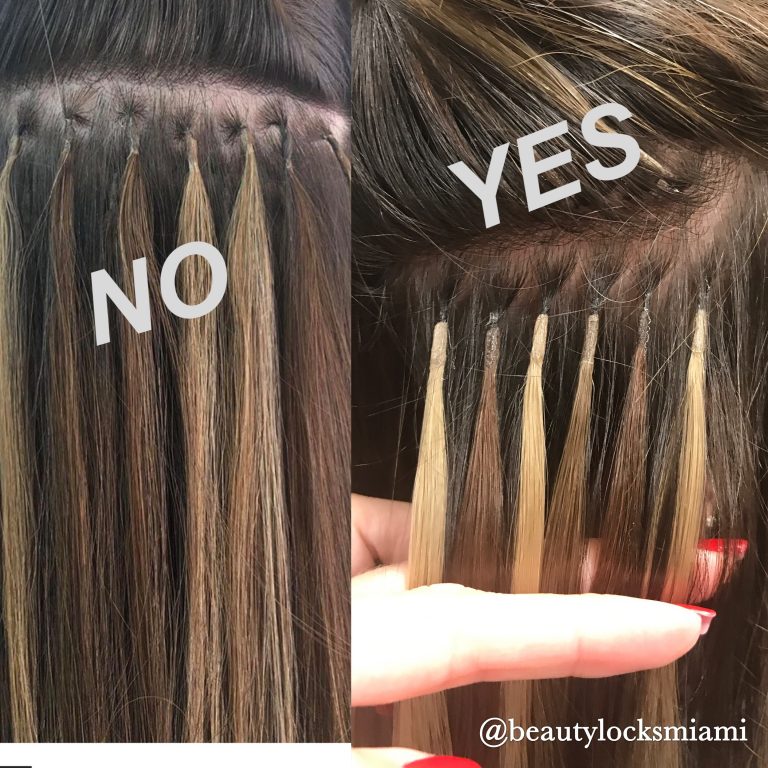 Row after row and strand after strand, the stylist repeats the process, beginning first at the nape and moving up to the crown and sides of the head. The upper layers of hair are left untouched, as it is important that they fall over the lower layers to hide the keratin bonds. At the end of the complete installation, the stylist goes on to further blend the Keratin Hair Extensions so that they look just like the client's real hair. This may include curling or flat ironing, and varies from head to head.
Since this method is done using heat, many refer to it as the 'hot method.' It's traditional, effective, and doesn't take much work. There is also another method, the 'cold method,' which is a bit more contemporary and modern. With this method, sonic technology is used to fuse the keratin extensions onto your natural hair. Some clients prefer the hot method while others swear by the cold method, but at the end of the day, it largely depends on your hair type. Fine, silky strands do well with the cold method, while thicker hair strands are perfect for the hot method. Having two methods is quite an advantage, as it assures that you will find the one that suits you best.
What are the advantages of having keratin fusion extensions?
It's difficult to attempt to downplay the popularity of keratin hair extensions. Debating it is interesting, but futile. According to thousands of women who have tried the experience and have fallen in love with it, it's certainly one of the top choices between the three most popular installation methods – tape-ins, micro beads and of course, fusions. Not only that, but it's also one of the most marketed and talked about – almost everyone has heard of 'fusions!' It can be said, then, that the keratin fusions industry is one of the best regulated extension industries.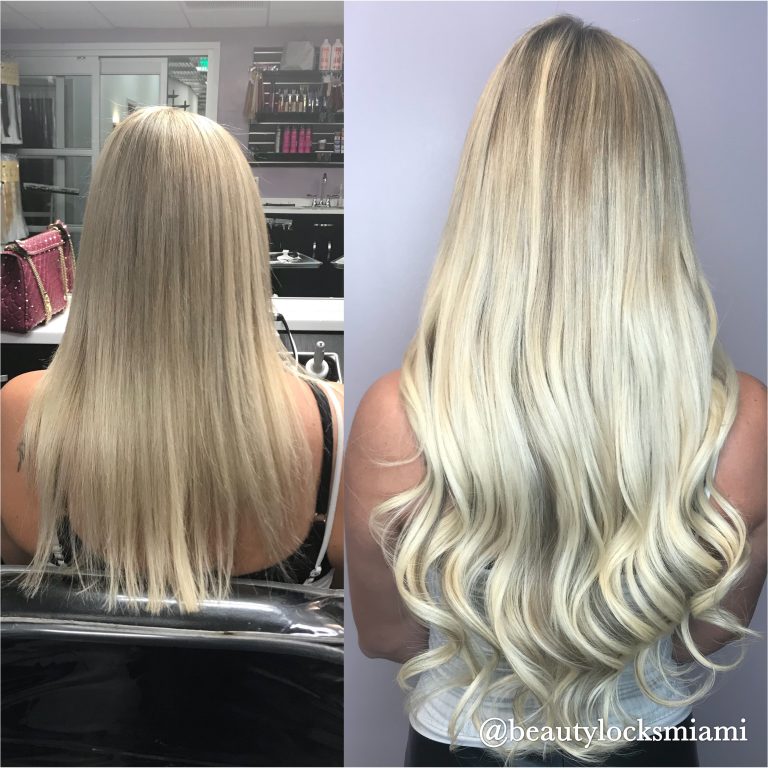 The greatest thing about this is that it means that there are many stylists available who are not only good at what they do, but specifically trained to apply keratin fusions. Often, salons will have one or two particular stylists whose specialities are installing fusions. For this reason, you can be sure that at the end of your installation you'll be satisfied, and that your salon visit definitely won't be at the cost of your hair's health. But to be sure, don't be afraid to first ask your stylist how much training they have had in applying keratin fusion extensions. If they are just apprentices, it might be best to find another stylist with considerable experience.
Thanks to skilful placing and blending, keratin fusions are never obvious when done well. There are a few techniques that differ slightly in the application process, but no matter which one your stylist chooses, it's a given that no one will be able to call your bluff. This is exactly why people flock to fusions so willingly. Underneath all of those layers of hair, the tips that have been molded and attached to your roots are completely unnoticeable when styled properly. The hair flows just like your own, and there's no need to worry about people pointing out your extensions, or worse, giving your hair that 'look.' The entire style is seamless, flawless and realistic, and you can go about your day as you normally would, letting your hair be the least of your worries.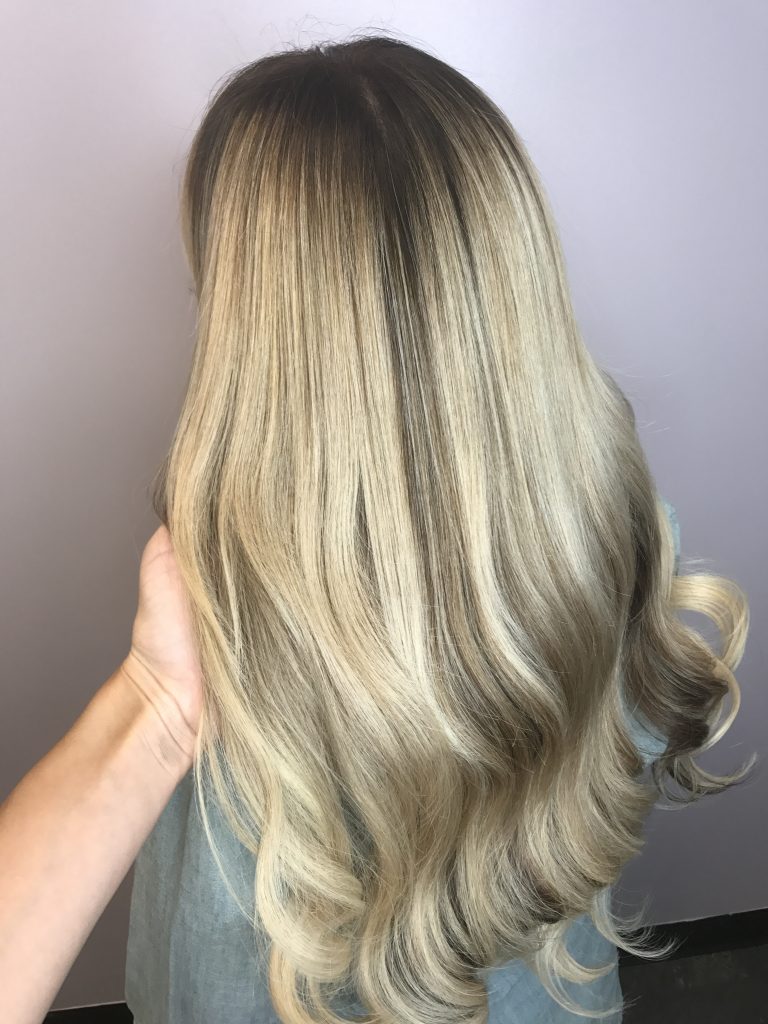 Fusions are super durable, meaning that after installed, they can last for quite a long time. For extensions done with high-quality, virgin hair from a good hair vendor, keratin fusions can last for as long as four months with proper care and maintenance! That's definitely great news for anyone who has been wondering if keratin fusion extensions are worth it.
When it comes to safety, Keratin Hair Extensions are absolutely stress-free. There is no damage done to either your hair or scalp once they are maintained and installed well. Whether your stylist uses the hot installation method or the cold installation method, your hair's health is protected either way.
Lastly and best of all, fusions offer the advantage of realistic, natural results. They are great for daily styling and a variety of styles, and more importantly, can be styled to fit any dress code. For example, if you're still attending school or you work in a conservative office environment, keratin fusion extensions don't stand out any more than they should. However, they can also certainly be dressed up if you have a special event to attend, like a birthday party, wedding or otherwise. They provide great length and volume, giving you much more styles to choose from than you ever had before!
Can you reuse keratin hair extensions?
Keratin extensions can be re-used for up to three times. Of cause, the quality of your look will greatly depend on the care with which you treat your extensions. Regular gentle brushing and proper shampoos with conditioner along with skilled salon professionals will greatly extend the life your extensions.
How much do keratin extensions cost?
The cost of keratin hair extensions varies greatly. It depends on the number of strands you would like to add, the quality of the hair and the salon. For an average volume of hair one would need about 100 strands or 50 grams of hair. Good quality hair along with professional installation will be in the range of $800 to $1200 at a solon that specializes in hair extensions. Be careful as poor quality hair extensions, mostly from China, are sold as premium products in many salons that do not specialize predominantly in hair extensions.
Maintenance
Keratin Hair Extensions aren't very difficult when it comes to maintenance. There are several steps that are crucial, which your stylist will explain to you after your installation. For the most part, you will be able to tend to your tresses just as you would tend to your natural hair, but given the nature of the keratin bond, there are a few exceptions. Here's what you need to know.
Washing your hair too often can cause the bonds to slip out of your hair, so keep your washes to two per week. Washing every day is a definite no-no.
Swimming should be done sparingly, if at all. The chlorine and salt in the water can loosen up your keratin bonds and cause those extensions to fall out.
Oily, creamy products are not your friend, and neither are conditioners, as these products can cause your roots to become excessively slippery, which may lead to slippage of the keratin bonds.
Use only special detangler brush for your extensions.
Three to five months is the typical length of time that keratin fusion extensions usually last. While you have your fusions in, your hair will grow, and for this reason it is important that you re-visit the salon every month for your stylist to remove any bonds that have slipped and set them closer to the scalp.
There's no doubt that fusions are a great hair extension method, but because of some of the terms of maintenance, as well as the pricy costs at many salons, many clients believe that it can be a bit bothersome. Similarly, the time to install fusions ranges anywhere from 3 to 5 hours, which is quite steep and can be an issue for some. Of course, many feel that the advantages of fusions are far greater than the sacrifices made to achieve such a beautiful style.
Removing extensions is simple, as a special bond remover is used. It is an alcohol-based solution that breaks down the keratin so that the bonds loosen without damaging the hair. After a few seconds, the stylist uses their tool to completely break the bond, and it slides straight off.
If you haven't tried keratin hair extensions yet, we won't be surprised if you want to after reading this article. For clients who are ready to take that first step, don't hesitate! Contact Beauty Locks Hair Salon for your consultation today – we're positive that you won't regret it.