What You Need to Know for Micro Bead Hair Extensions Success
Micro bead hair extensions offer women who are considering wearing hair extensions, an alternative option to sew-ins, keratin and glue installations. The decision to wear these extension illuminates the avenue to beautiful hair that is vibrant, voluminous, and versatile. There are many ways to add hair extensions to your natural hair, but micro beading provides yet another option for adding length without the muss or fuss of heat or other nasty chemicals that can sometimes prove to be an absolute turn-off.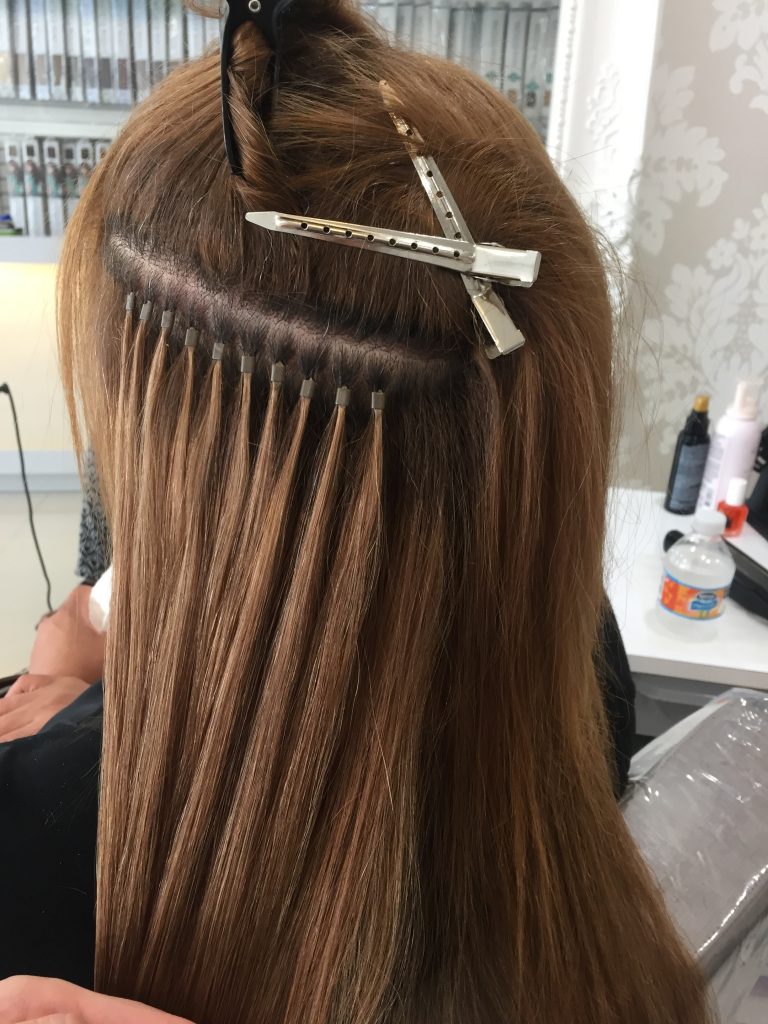 From celebrities to blushing brides, many deem micro beads as the perfect hair extension style of choice to meet their needs.
Let's take a closer look at what you should know about micro bead hair extensions.
What Are Micro Bead Hair Extensions?
Micro bead extensions entail the application of individual hair extensions to your hair, strand by strand using small metallic loops that are attached to the hair extension. This process has many names. Also known as micro linking, micro looping, I tip, or I link, this process requires the skills of a specialist or stylist such a Beauty Locks Hair Salon stylist. A micro link installation specialist has the necessary skills loop a hair extension through a piece of your natural hair, ending with a clamp of to secure the hair, using a pair of pliers.
How Long Does It Take to Install Micro Bead Extensions?
Let's face it, the journey along the path to perfection and beauty is rarely a five-minute tour. Micro bead hair extension installation is not the exception to the rule. It can take between two to three hours for a professional stylist to install micro bead hair extensions. It is important to note that the amount of time it takes to install these extensions may vary and is heavily dependent on the amount of hair you are installing. You may elect to get a full head micro bead installation or instead opt for a portion of your hair to have micro links extension installation.
How Long Do Micro Links Last?
With proper installation and care, micro bead hair extensions may last for as long as five or six months. The key to the longevity of this style has everything to do with keeping in contact with your Beauty Locks Hair Extension Stylist who can first, achieve the best possible installation and be available for ongoing hair care needs. A good micro bead hair extension stylist possesses the knowledge, skills, and ability to install your micro bead hair in a way that looks natural and of the highest quality while giving the appearance of the utmost sophistication and elegance.
Can Micro Bead Extensions Be Reused?
Yes, you can re-use micro link extensions. With good quality micro link hair you can re-sue them for up to three times. Assuming average re-use of once every three months, a set of micro link hair extensions will last your up to a year.
How Much Do Micro Link Hair Extensions Cost?
Micro link extensions price depends on the quantity of hair pieces you would like to install. For a full head of extensions, you would need about 100 pieces. That amount of hair with installation will cost you about 800 to 1000 dollars. Micro link extensions, on average are more expensive than tape or keratin extensions simply because it will take longer for a stylist to install them.
Advantages of Micro Bead Hair Extensions
Aside from the delivering volume, length, and versatility to hair styling practices, micro bead hair extensions such as Beauty Locks Hair Extensions, offer a broad range of benefits for those who decide to wear them.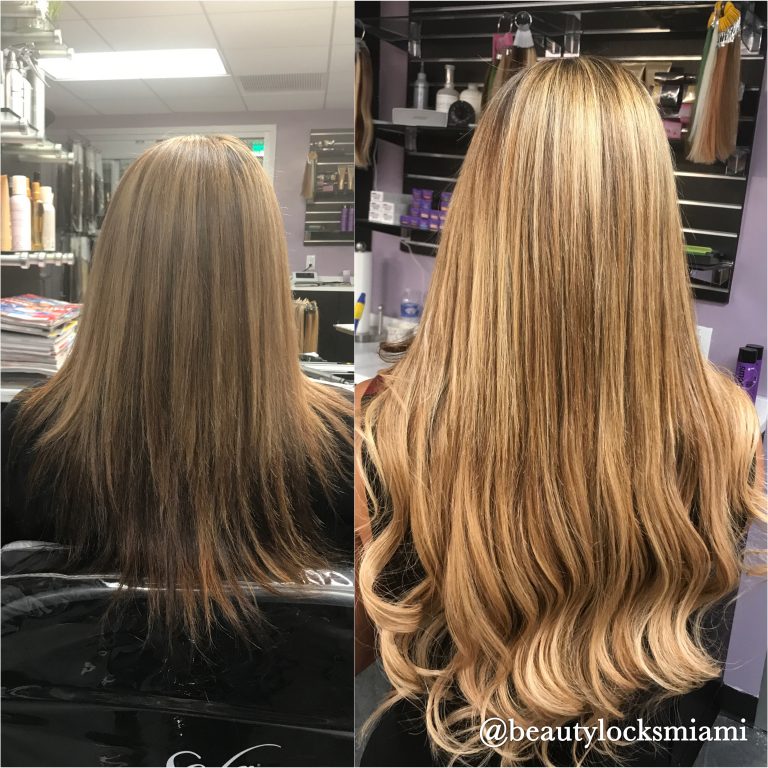 With proper application or removal process, micro beading is safe for those who choose this route. They are among the least hair damaging choice for hair extension installation with adequate and regular maintenance.
Speaking of maintenance, the next perk of wearing micro bead extensions has everything to do with their low-maintenance quality. While your stylist will encourage you to keep regular appointments for ongoing care and "simple" repair, micro bead hair extensions do not require a whole lot of maintenance which can on occasion prove to be cost effective. If they slip, there is the ability readjust them without having to reapply them using glue or heat to restore them.
Micro bead hair extensions blend well with your existing hair, allowing for a variety of styling options. Micro linking allows for one to rapidly change their appearance by not only adding length and volume but lowlights and highlights that create a vibrant and refreshing look.
Disadvantages of Micro Bead Hair Extensions
While there are many positive aspects for choosing to wear micro bead extensions, there of a few disadvantages that you must consider before going through the installation process. Perhaps the greatest disadvantage of wearing micro bead hair extensions is the risk of harm to the hair or scalp that can occur with improper installation. Always make sure that your are cared for by hair care professionals with proven track record of extension installation.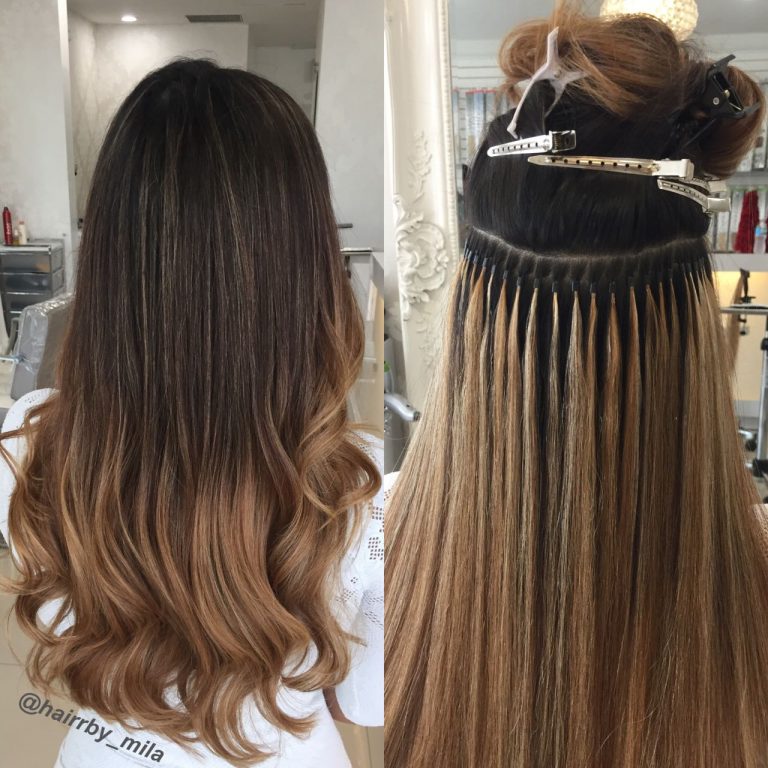 Poor installation of your micro link hair extensions may prove painful. This statement is particularly the case if hair extension installation takes place too close to the scalp. Setting extensions too close to the scalp may cause itchiness and significant discomfort during the first three weeks, leaving those wearing those extensions uncomfortable
While there is the convenience of being able to change your look with hair extensions rapidly, the downside is that there is a slight inconvenience that accompanies the removal process and that inconvenience will entail making a trip to the salon to see your micro bead hair extensions, stylist. You should never attempt to remove your own micro link hair extensions because you may accidentally pull out your natural hair, making for a very painful experience.
To avoid each of these pitfalls, it is imperative that you seek the services of a professional who is familiar with the micro beading hair installation process and ensure that you notify your stylist if you do experience any degree of pain from your micro bead hair extensions. A good stylist will take the time to address the issue. Take the time to schedule an appointment with your stylist for micro link removal to eliminate the chance you might destroy your natural hair during the removal process.
How to Care for My Micro Bead Hair Extensions
Caring for your micro bead hair extensions requires consistency with a touch professional intervention. In other words, you will need to ensure that you see your micro beading hair extension stylist at a minimum of every two to four months for maintenance and longevity. A stylist understands the importance of adjusting those pieces that may shift with time and keep your style looking fresh.
Failure to sustain regular visits to the stylist may lead to damage your hair, slippage of the extensions and a whole lot of frustration. Ensure that your stylist is one who is very familiar with caring for micro bead extensions. Anything less may prove damaging to your hair.
Use hair care products with caution. Some products can cause slippage due to lubrication that not only results from oil.
Combing and Brushing Micro Bead Hair Extensions
You hair extensions may look gorgeous and completely natural, but keep in mind that they are your natural hair. You must use caution in the overall day to day manipulation of your hair. You do not have to wear kid gloves but, over manipulation from heavy-handed combing and brushing practices may also contribute to beads sliding or worst-case scenario, it may lead to your extensions falling out prematurely. Many experts recommend that should you decide to brush your hair, use a nylon boar bristle brush or loop brush on those tresses. You must separate those strands at the roots during your hair brushing regimen to reduce the risk for tangling.
Washing Micro Bead Hair Extensions
How often should you wash your extensions? The recommendation is that you try to limit the frequency of cleaning or wetting this hair. Ultimately, you want to preserve the life of this hair, and this is achievable so long you do not expose your extensions to the rigors of the hair washing process too often. However, the time will come when you need to cleanse your hair. If you choose to clean your hair, there is a best practice you should keep in mind, and it has everything to do with the direction in which you apply and rinse your shampoos and conditioners.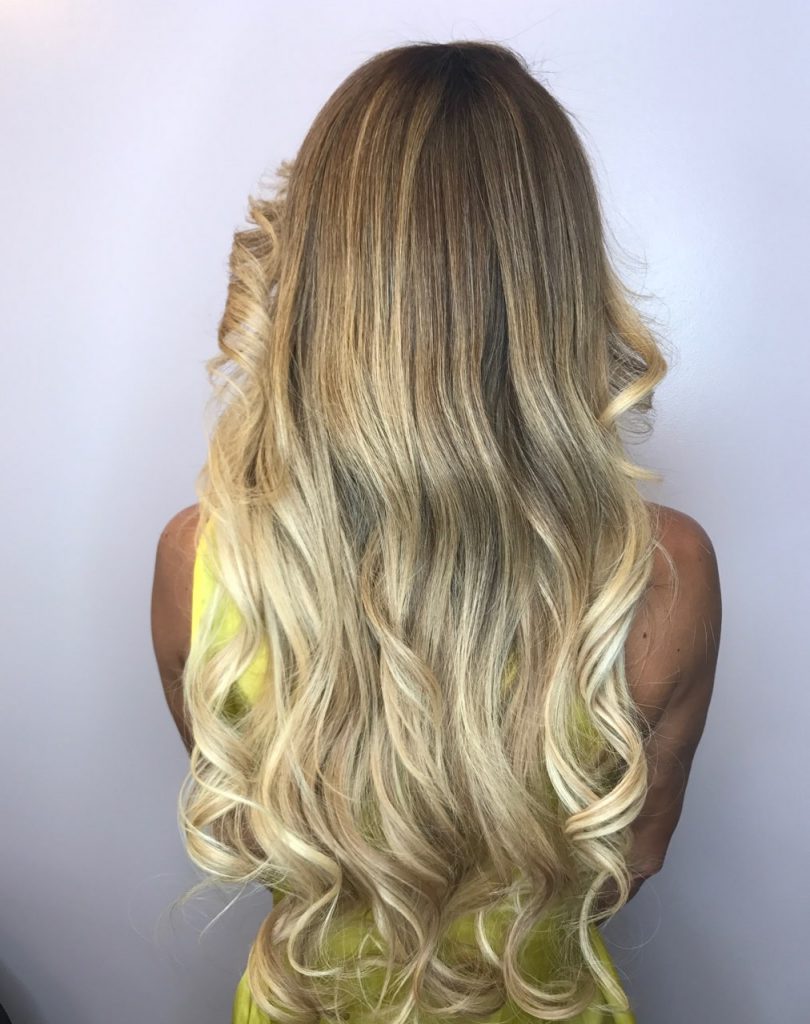 The key to washing your micro link extensions is to just as follows: proceed with caution and a degree of intention. This warning is not to say that the process is ripe with complication; but, one must remember that while your extensions look gloriously natural, they are not growing from the root. There is a distinct method for washing your hair that you should utilize to avoid causing damage or inadvertent loosening of those tresses. First, comb or brush your hair to remove any tangles before initiating the hair washing process.
Once you are in the shower, you will rinse and wash your hair in the direction of growth. Simply put, wash your hair using a downward motion from the top to the ends to avoid tangles. Do not rub your head in a circular motion or in a manner that creates frizz or tangles. Also, this is not the time to flip your head upside down to wash the hair as you might trigger unwanted snarls.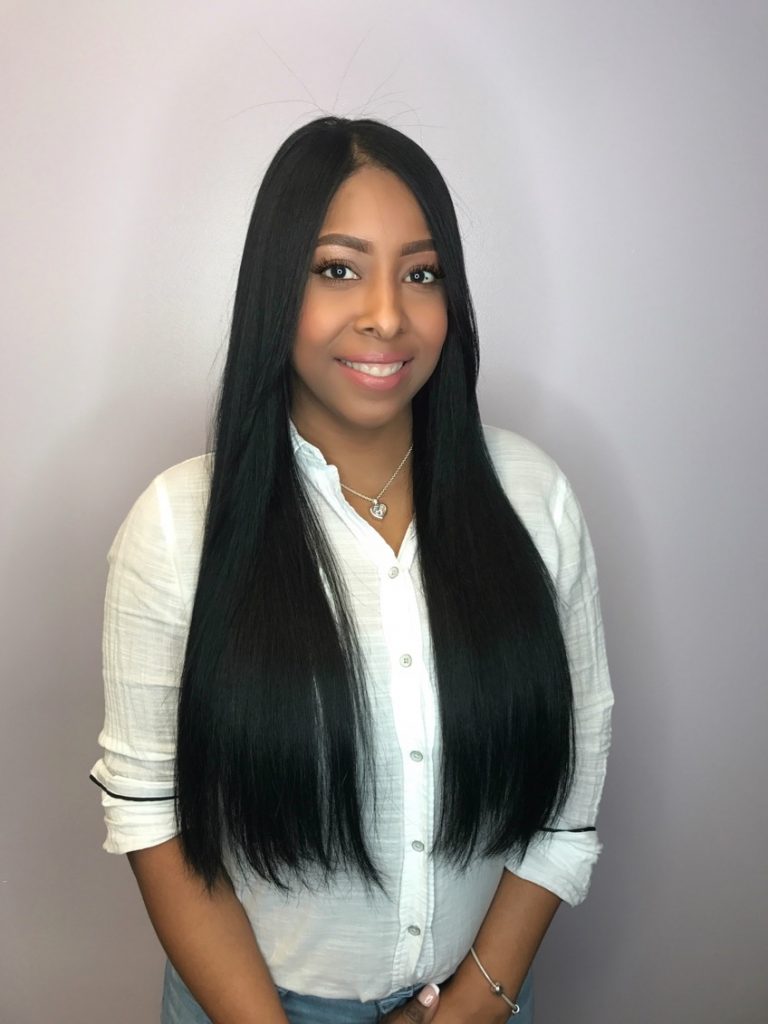 Scalp care is essential, and so, yes you will want to cleanse your scalp as well. As you cleanse our scalp, be careful not to disrupt those beads or bonds. Consider stroking your scalp rather than vigorously scrubbing.
Stay away from shampoos that contain parabens, silicone or abundant proteins. The wrong type of shampoo can weaken your hair extensions, causing them to fall out.
When conditioning your hair, be careful to apply conditioner to your strands and not around those beads and bonds. Be sure to apply conditioner to the mid-lengths of your hair to the ends. Establish a deep conditioning regimen every other wash. This action will prolong the lifespan of your extensions.
Take the time to consult with your stylist about what the best shampoos and conditioners are for your micro bead extensions.
During the initial phase of the hair drying process, try to stay away from wrapping that towel around your hair as once again, this action may cause tangles or snarls. Instead, take the time to squeeze your strands to assist in the release of excess water then gently pat the micro link hair extensions dry. Your goal should be to allow hair to air dry as much as possible before using a blow dryer to move things along in the hair drying process. Always ensure that hair is dry before going to sleep to reduce the risk for matting and tangles.
Taking Care of your Micro Bead Hair Extensions
Micro bead hair extensions blend well with your natural hair, but for those who are seeking to change things up by coloring their hair, the good news is that you can color some micro link extensions. The key is to purchase hair that allows for color.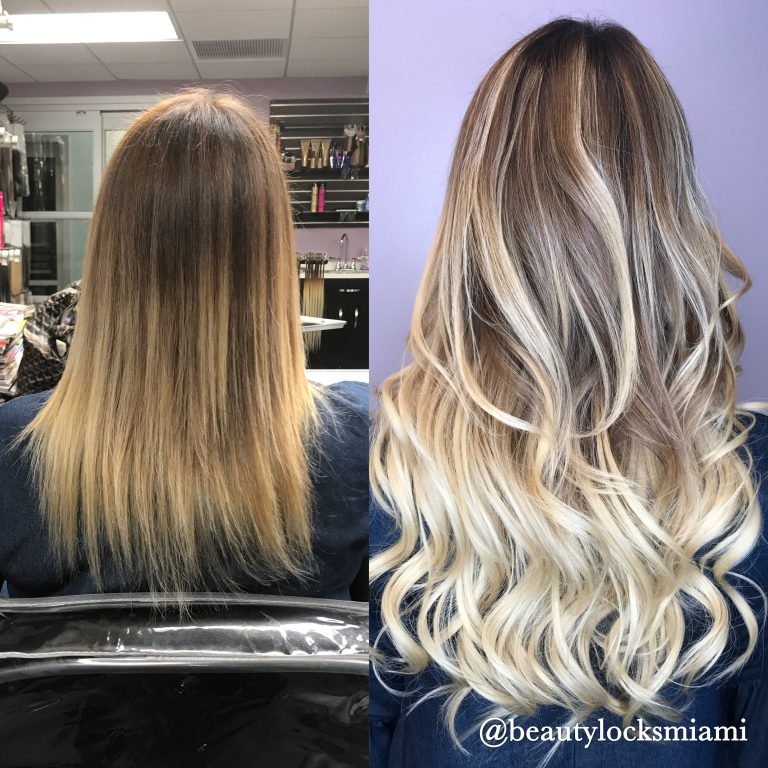 Should you use heat on your micro links extensions? It's a fair question. You should use heat as little as possible on your hair extensions due to the risk of damage to the hair. If you decide to apply heat to your extensions, follow the standard protocol for protecting your natural hair from heat damage. Use a thermal or heat protectant spray to avoid damaging the hair structure.
Also, if the heat of coloring irons or wands encounter the beads, they can melt them. Thus you must take precautions to keep the heat away from those beads!
Sleeping with Your Micro Bead Extensions
Did you know that you should institute a sleeping regimen for those micro links extensions? Your goal should be to protect those tresses from any risk of tangles, snagging or pulling that might occur as you sleep at night. You can protect your hair extensions by wearing a silk scarf, satin bonnet, or by placing your hair in a protective style such as a loose side braid or plait may go a long way to reducing the risk of experiencing tangles in the morning.
These are just a few things you should know about micro bead hair extensions. Take a little time to change your vibe and change your look with this hair installation process!