Short hair is attractive, enjoyable, and classy, but occasionally you can yearn for a change of looks. With extensions, you can experiment with different colors, give your hair the appearance of thickness, or temporarily add length. There are different hair extensions for short hair that you can choose from. But it's expedient you go for simple ones that will fit better with your short hair. Whether you want to add length, volume, or volume, there are lots of hair extensions available for short hair.
Can You Get Hair Extensions for Short Hair?
Yes, you can get extensions even if your hair is short. When selecting them, there are many factors to take into account. You must decide on the extension installation technique, length, color, and type. Not every solution is effective, especially for short hair length. But hair extensions for short hair can dramatically change your appearance in a few hours with the right professional stylist.
While making plans to get hair extensions for very short hair, consider these:
Choose a fairly short length: Pick a length that is not too long. Generally, shorter extensions look more natural, especially if your hair is already quite short. Choose extensions with a length of between 16 and 18 inches (40 to 45 cm). If your hair is shorter than chin length.
Ensure the hair extensions are thick enough as it is crucial if you have a short haircut. Thick extensions will make the transition appear natural and seamless.
Pick a professional stylist with plenty of experience to color your hair extensions. It's crucial to match the extensions to the color of your hair so that they blend evenly and give the appearance of longer hair.
A quick consultation with Beauty Locks Salon will set you on your best foot.
What Extensions Are Best for Short Hair?
Before making your final decision on whether to get a hair extension for short hair, you might want to consider the type of extensions that are best. So when choosing a hair extension for very short hair, take note of your natural hair length, extensions thickness, extensions length, extensions color, and extensions texture.
There are many options for adding hair extensions to short hair. The simplest is Clip-in extensions as they can be easily attached to your natural hair using clips. They are suitable for very short hair, as long as you have at least a few inches of hair to cover the clips. Women with shorter hair love clip-ins since you can get them in various lengths, hues, and textures to make blending simple.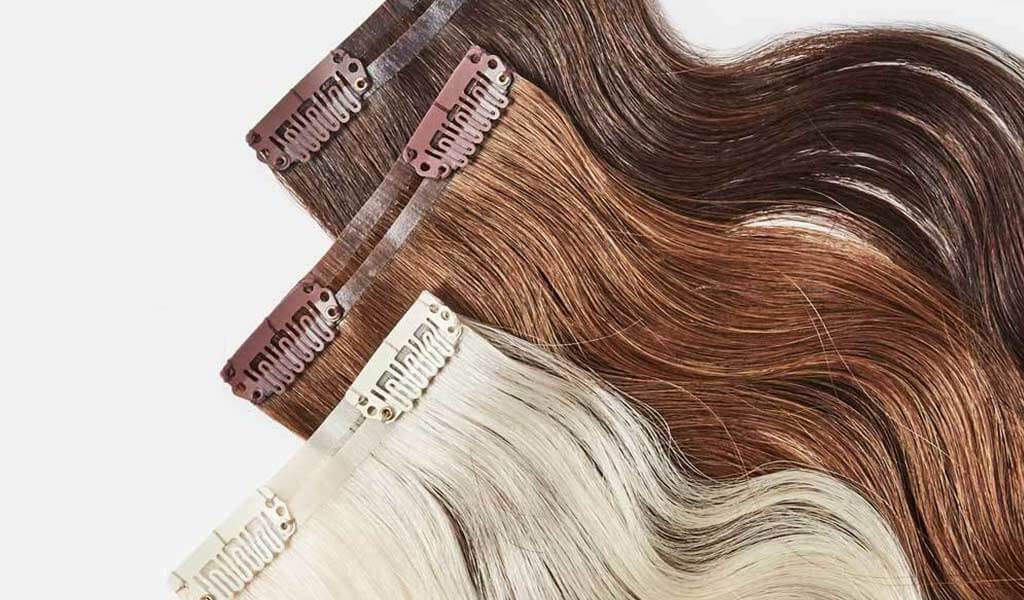 Another method and a better solution is Tape-in extensions. These extensions are attached to your natural hair using a special adhesive tape. They can be a good option for hair that is not too short. You need just enough length to cover adhesive bonding which is generally 5 to 7 inches. as they don't require any heat or metal bonding to apply.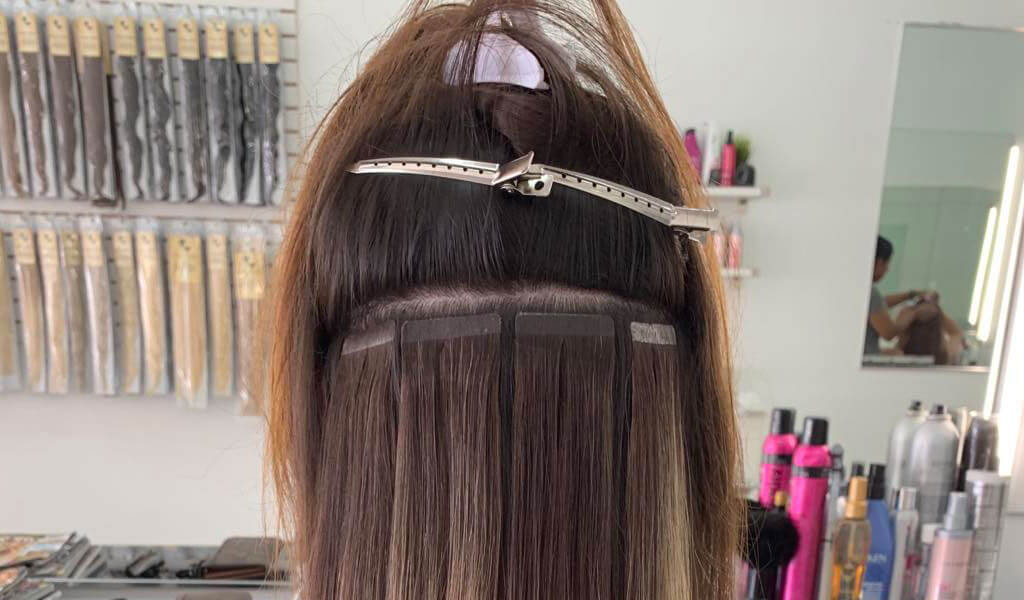 Yet another method, and the best solution is Micro bead hair extensions. They are excellent for short hair because they effortlessly blend and can be applied almost in any length. The bonds for keratin extensions are small and can easily be hidden even in the short hair. Bonds lie flat on the head and are essentially unnoticeable. These hair extensions blend naturally and work well with short, thick hair.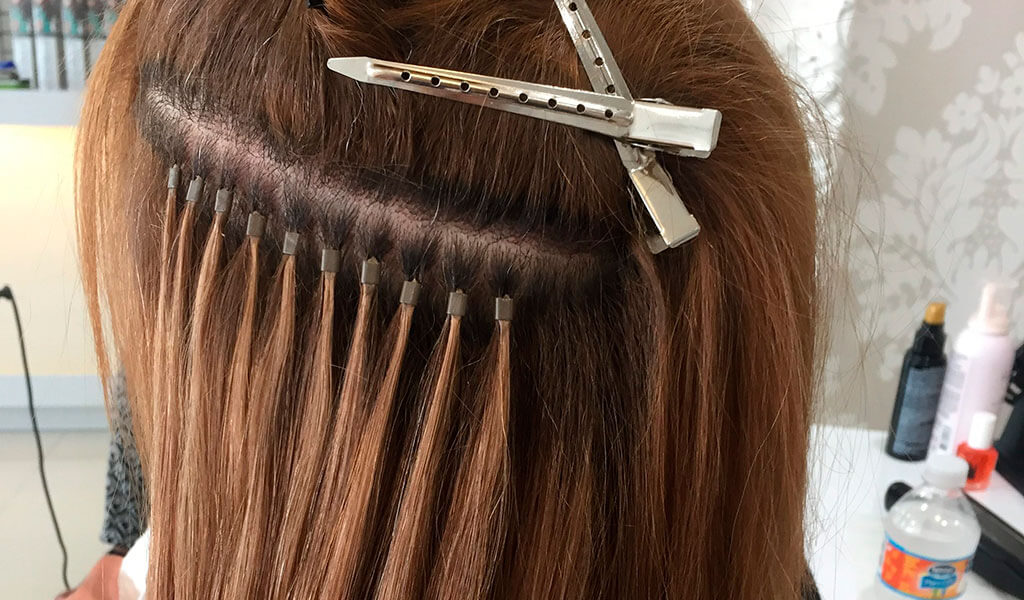 For those who prefer micro-beads extensions, we have a disappointing news. They are not appropriate for short hair.  Fusion extensions are attached to your natural hair using a special beads that are attached to your natural hair. They are not suitable for very hair, as they require decent length and hair volume to cover the bonds.
Hair Extensions for Short Hair Before and After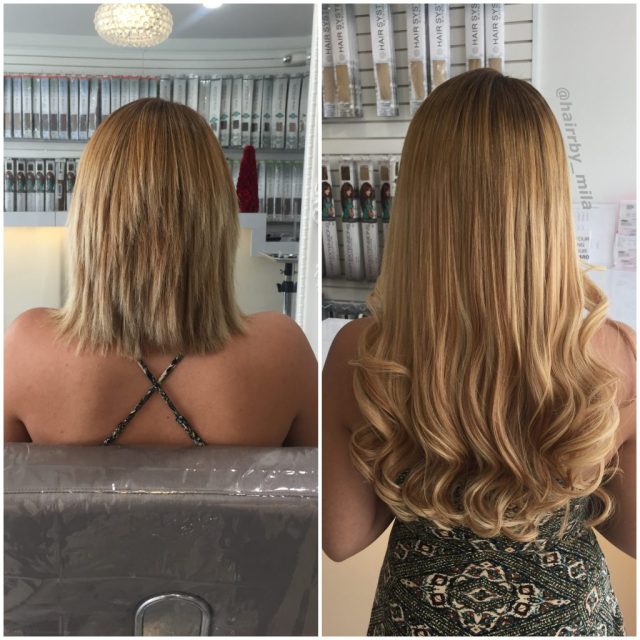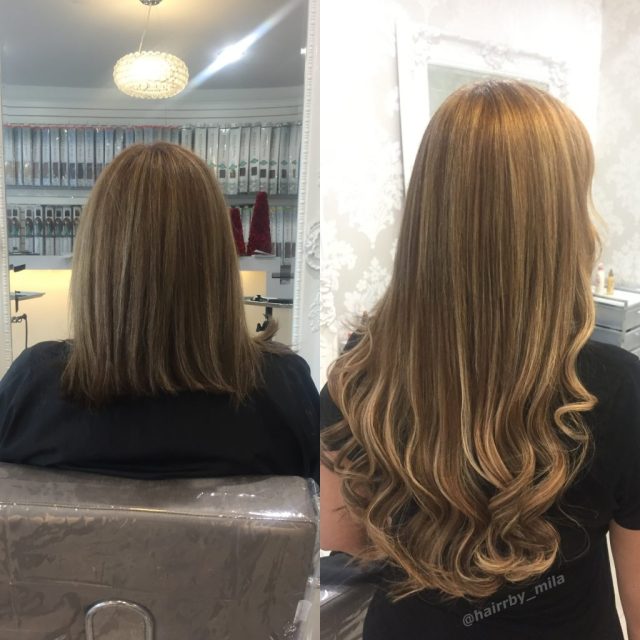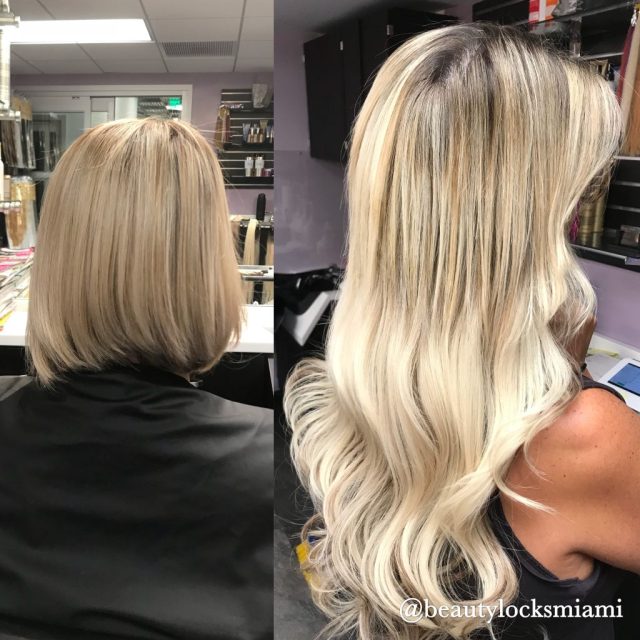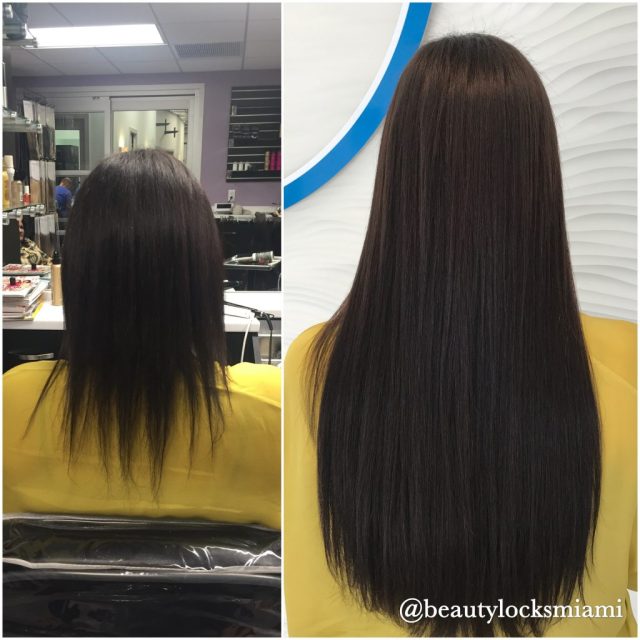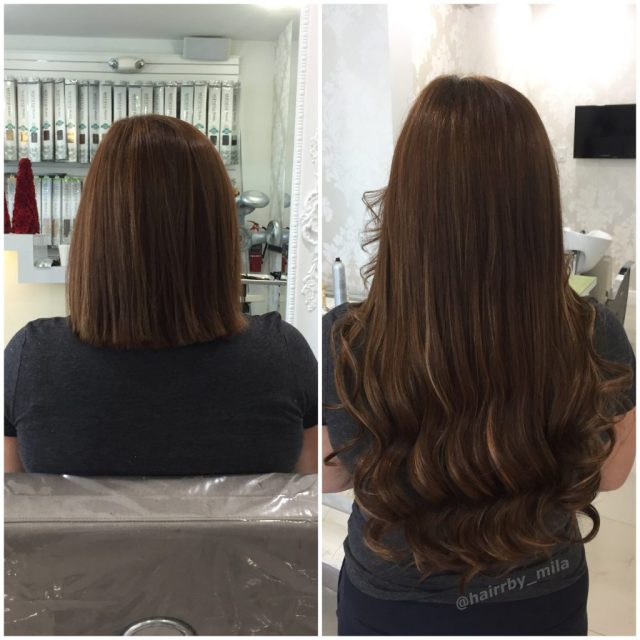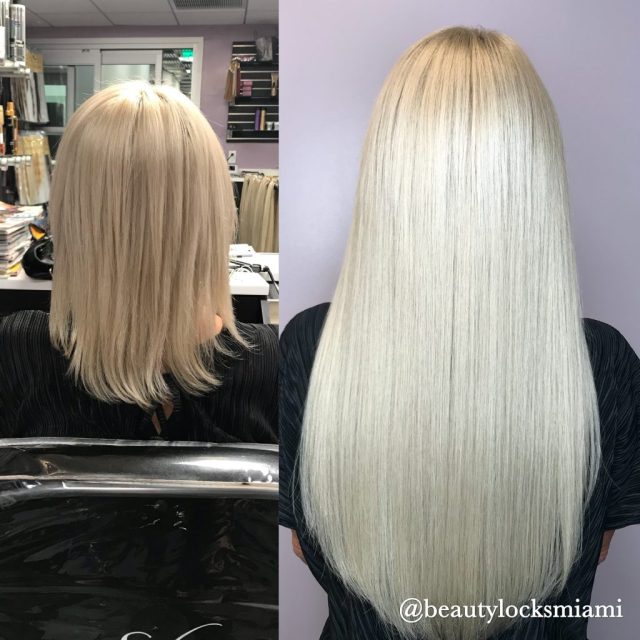 Before choosing any hair extensions for short hair, it's important to consult with a professional stylist to determine the best option for your hair and desired length length. Beauty Locks Salon can help you choose the right type of extensions and ensure that they are applied correctly— all thanks to our team of deducated stylists. Book a consultation today!