Micro beads hair extensions are individual hair extensions that are applied to your hair strand by strand by a trained specialist from Beauty Locks Hair Salon. Micro loop hair extensions are applied by sliding your own hair trough the loop, adding the hair extension strand and then clamping it down with a pair of pliers to finish.
The newer micro beads hair extensions are made even easier to apply, as they have the metallic loops already attached to them, and all that's needed is for your natural hair to be pulled through the loop. They are also simple to remove; all you'll need is a pair of pliers.
It will take around 2-3 hours to install them by a professional hair stylist. This of course depends on the amount of hair installed. Our professionals at Beauty Locks Hair Salon value your time and will be quick and efficient. However, good job does take some time to complete.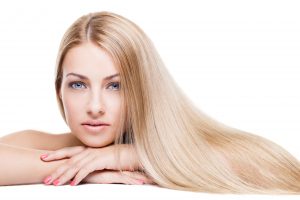 If you decide to do them on your own, you most likely will not get a clear image of how well aligned they will be. If this happens, the loops will be unaligned and messy, causing tangles and falling out easily. When the beads are not aligned properly, it can easily reveal the metal links when your hair moves.
To avoid this make sure you won't apply them too close to the roots, keep the distance at half an inch between your scalp and the bead. But is best ta make an appointment with Beauty Locks Hair Salon specialist and save yourself lots of aggravation.
In order to avoid causing damage to your hair, remember to make an appointment to the hair stylist at every 2-4 months so you can have the hair maintained properly. The stylist will trim the extensions, brush up the bits that have moved, and also add hair in case if it's necessary.
The micro beads hair extensions don't need any special product nor heat levels in order to attach them to your hair. The most suitable type of hair for this is thicker or stronger hair. Installing the extensions is very gentle on your hair and the bonds will remain secure for a long time period. These are one of the few extensions on the market that you can dye and treat as your own hair, because it doesn't affect the bonds of the hair.
Installing them does take a long time, but the end result will look incredible. The hair blends very easily, and looks natural. You can style them like your own hair. While keratin and tape hair extensions require you to not apply any heat near the bonds, micro bead extensions are completely fine with the heat.
One of the biggest disadvantages associated with micro link hair extensions is the damage that they can cause to your natural hair if they're attached improperly.   If the hair extensions are installed too close to scalp, you will have itchy and painful experience in the first 1-3 weeks. It's not advised to take the micro link hair extensions out on your own, as it can be painful and you will most likely pull out your own hair. Make an appointment with Beauty Locks Hair Salon specialist when planning to remove micro links.
Micro beads hair extensions should be washed in a downward motion so as not to tangle the bonds. To keep the extensions fresh and healthy looking, avoid washing them too often. On a side note, too little of washing will cause the build-up to loosen the metal links and the extensions will start to fall out. Ask for professional advise from Beauty Locks Hair Salon when choosing the best shampoo for your extensions.